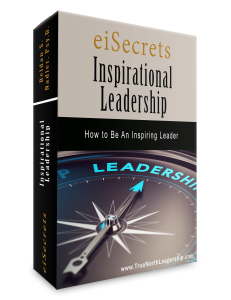 Inspirational Leadership
eiSecrets Webinar: The Secrets Behind Inspirational Leadership and Influence
Being an inspiring leader is core to achieving success as a leader.  After all, once you've mastered your understanding of Self and how to manage your own strengths and weaknesses, it's a logical next step to master relationship building with your team.
Inspirational leadership and influence is what defines great leaders from average.
You'll learn:
What followers really want from their leaders,
How to master hands-off management,
The "Leadership Two Step" to maximize focus and energy,
Three crucial steps to building trust and credibility,
What it take to be truly inspiring,
How to keep things positive even when faced with failure,
The key components to influence and power,
The magic ingredient for inspiring communication,
How to build enthusiastic followers who become leaders.
The Secrets Behind Inspirational Leadership and Influence. Find out how to develop your influence as a leader who inspires star performance.
Buy Now