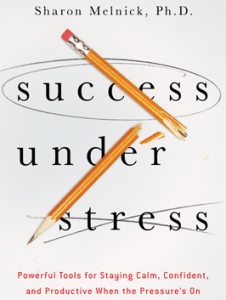 Procrastination and perfection are roommates. How will they show up this holiday? Learn the 7 types of procrastination.
Dr. Sharon Melnick shares an informative discussion with Cathy and I about stress, confidence, perfectionism and how to get out of your own way.
As a business psychologist, Dr. Sharon Melnick helps talented and successful people get out of their own way. Ten years of research at Harvard Medical School and trained in cutting edge stress resilience techniques, she is a leading authority in helping business professionals grow to the next level of leadership have security in insecure times.
Dr. Melnick presents and trains on stress, productivity, and leadership development with consistent rave reviews. Numerous times she has been invited by companies such as GE, IBM, Bloomberg, Coldwell Banker, and organizations including the American Management Association, National Association of Female Executives, Working Mother Media, Healthcare Businesswomen's Association, Women in Cable and Telecommunications,
and Success Television.
Success under Stress:
How to be Calm, Clear-Thinking, and Confident when Everything is Out
of Control
Plus she has online programs on Confidence at Work, Procrastination,
Success under Stress and Friction-Free Relationships at www.sharonmelnick.com
Here is a summary of what we learned from Sharon in this
interview:
20% percent of people are chronic procrastinators
80% percent of us have periodically procrastinated
There are 7 types of procrastination. Which one is your favorite?
Avoider: this person stays miles away for the task.
Perfectionistic: this person has to be great to start. They have
unrealistic expectations of themselves and therefore others.
Dreamer: this person is full of good ideas but when it is time to implement
you get more ideas versus action.
Protector: this person worries more about what other people think of them or
how they may be judged and don't get into action.
Pressure Seeker: this person has trouble building internalize focus and waits for
the external force to build pressure to do the action
Prioritizer: this person prioritizes the task as not important enough now.
It is not a problem for them but often others.
Attention Deficit Disorder: this person gets easily distracted and
the mundane efforts of execution easily escape them.
Which one are you? If you are not sure the ask others which is your type.
Identifying your type is the first step in "naming it to tame it."
Listen to the podcast above, to hear more tips, like the acronym for
FEAR and how to do a cool breathe for relaxation technique.